Leadership
Executive Committee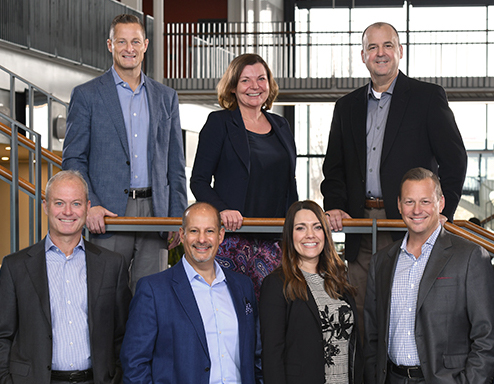 Back Row (L to R): Dan Keough, Ellen Willadsen, and Den Bishop. Front Row (L to R): John Hurley II, Wally Gomaa, Charisse McCumber, and Tom Stewart.
Your business deserves the best. When you partner with Holmes Murphy, you'll be represented by some of the industry's most knowledgeable, experienced professionals – starting with our Executive Committee. So we want to introduce the Holmes Murphy Executive Committee members who lead our team to compete to win every day. These seven are true game changers!
Board of Directors
Now that you know our Executive Committee, we'd like to introduce you to our Board of Directors. Each are incredible at what they do and bring value to Holmes Murphy that is unmatched in the industry! Want to know a bit about them? Take a peek by hovering over each board member; you may find something interesting you didn't know about the men and women leading Holmes Murphy.
Brad Bierman

Senior Vice President, Employee Benefits

Chris Boyd

Senior Vice President, Employee Benefits

Kari Cooling

Senior Vice President, Market Leader, Property Casualty

Wally Gomaa

CEO, ACAP HealthWorks

John Hurley II

President, Property Casualty

Gerald Johnson

Senior Vice President, Property Casualty

Dan Keough

Chairman & CEO

Charisse McCumber

Senior Vice President, Employee Benefits

Steve McManus

Senior Vice President, Property Casualty

Doug Muth

Senior Vice President, Property Casualty

Jay Reavis

Senior Vice President, Market Leader, Property Casualty

Tom Stewart

President, Innovative Captive Strategies

Ellen Willadsen

Chief Financial Officer