Property Casualty
We Find Creative Ways to Lower Cost, Risk, and Blood Pressure
As a business owner, finding the right insurance partner can be a difficult and complicated process. Most companies tend to look at property casualty insurance based on what they've done before. As a result, coverage and program risk strategies lack alignment with business goals and change isn't measured, impactful, or realized.
This is no surprise. Historically, the insurance industry's approach to risk management has focused primarily on being reactive and meeting the status quo of the property casualty marketplace.
This outdated approach to risk management leaves companies with little control over the threats their business faces and overshadows opportunities to improve employee engagement, safety practices, claims outcomes, manage contracts, achieve financial security, and more. Your company is unique and shouldn't be treated with a "one size fits all" solution.
At Holmes Murphy, we're a leader in driving change and disrupting the insurance industry. We think real value comes in finding ways to positively impact change.
This starts with investing time to understand who you are, not just what you do. Our comprehensive, proprietary, and custom approach, Understanding ART, develops an enterprise-wide strategy to support your business plan, culture, and risk management program.
Your Risk Management Program Should Work for You
Understanding ART extends beyond coverage gaps and price to Avoid, Reduce, and Transfer our clients' losses by focusing on your business, your risk management, and your potential.
Your Business Values
We like to do business with organizations that value similar things we do. This alignment creates long-term success and is why we start with our Cultural Values Exercise led by our risk management and organizational engagement experts.
This interactive conversation with your key leadership helps Holmes Murphy gain a better understanding of your company's range of attitudes and viewpoints around five perspectives:
Growth
Employees
Risk
Advisors
Change
Your Risk Management Program
Following the Cultural Values Exercise, we engage our team to complete Understanding ART Assessments in each risk management area:
Loss control
Claims
Insurance services
This allows us to weigh your risk management procedures with proven best practices and work to understand where you've already invested, where you may be struggling, and what holes may exist in your overall strategy.
Your Potential with a Customized Impact Plan
Based on the information gathered from our assessments, our team will collaborate to identify opportunities for greatest improvement to reach your full potential outlined in your customized Impact Plan.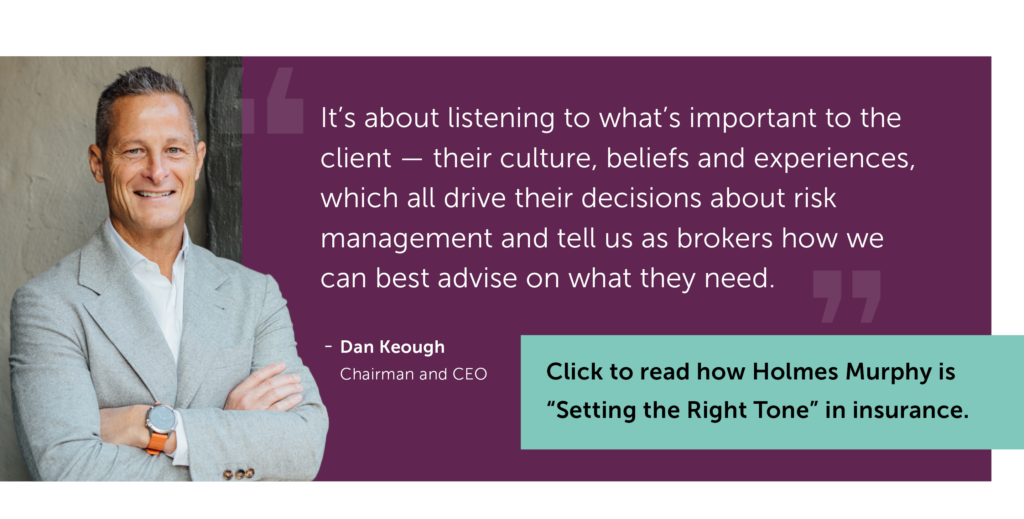 What Can Holmes Murphy Property Casualty Do for You?
Holmes Murphy invests time with our clients to form a continuous, long-term partnership. True to our goal in delivering proactive value, we complete the Understanding ART process on an annual basis to consistently address evolving goals and priorities within your risk management program.
Companies can expect a return through forward-looking performance indicators, professional opinions without the risks of underwriting scrutiny and benchmarking.
Keep a Risk Scorecard
Understanding ART is best shown through measurable results. Our risk scorecard visually illustrates how your company improves year-to-year and showcases where your risk management program has gotten stronger using our 19 proprietary Key Performance Indicators (KPIs).
These KPIs, or best practices, identify specific behaviors that help reduce costs and lower risk.
Save You Time and Money
Understanding ART takes less time than conventional property casualty insurance industry methods, doesn't require going to market, and is proven to make a memorable impact.
It's time for you to Avoid, Reduce, and Transfer losses and risk. To learn how you can reach your greatest potential with Understanding ART, give us a call, or fill out this form!
Not quite ready to make the jump? That's okay! Learn more about property casualty insurance and Holmes Murphy on our What's Up Holmes blog!