Manufacturing
We're Proactive So You Can Be Productive
As the backbone of society, manufacturing companies drive economic research, development, innovation, exports, and middle-class jobs.
Whether you're a low- or high-hazard risk manufacturer of foods, chemicals, textiles, machinery, or equipment, you manage a lot of moving parts that can put your company at risk for:
Employee injuries
Liability lawsuits
Property damage
Cybersecurity threats
Equipment breakdown
In some cases, the inability to continue business production
Many manufacturers are faced with unique risks such as skilled labor and third-party vendor shortages. Additionally, manufacturing companies that are transitioning outdated processes and efficiencies through digital and automation advancements increases the need to understand risks associated with cybersecurity and Artificial Intelligence (AI).
Accessing the right risk management tools, solutions, and knowledge is essential to run your business efficiently, reach consumers faster, increase profits, and keep your employees safe. To stay up to speed with the latest in manufacturing news and information, email nkohlhof@holmesmurphy.com and ask to receive our quarterly newsletter.
At Holmes Murphy, we understand accidents can happen no matter how prepared your business or experienced your workforce. That's why our loss control, claims, and insurance experts partner with your company to better understand the gaps that may lead to loss of time and money.
Holmes Murphy works to be an extension of your risk management team to keep losses low, foster working relationships between the business and claims adjusters, and better manage insurance to reduce costs.
Using our proprietary and unique Understanding ART approach, we ask questions that allow us to dig deep into your business and culture to create a custom risk management plan that works for you.
Understanding ART extends beyond coverage gaps and price to Avoid, Reduce, and Transfer our clients' losses by focusing on Your Business, Your Risk Management, and Your Potential. The result is a comprehensive risk management program aimed at helping your business run better instead of just buying manufacturing property casualty insurance.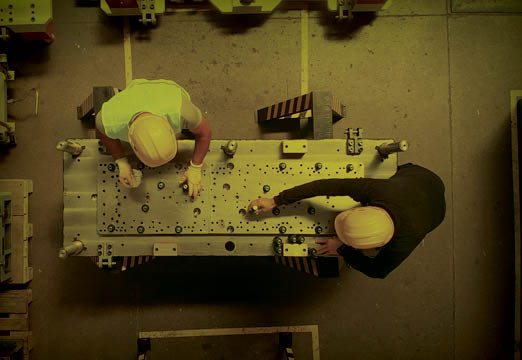 How Does Understanding ART Help Manufacturing Risk Management Programs?
Our Understanding ART approach offers tools and assessments to help organizations identify their opportunities for greatest impact in the form of a customized Impact Plan.
How do we do this?
Loss Control
Our Loss Control team helps you avoid risk. We use tools such as mock OSHA audits and classes, industrial hygiene monitoring, and incident investigation training to control the potential losses you may face as a manufacturing business.
Claims
With the support of our experienced Claims Management team, Holmes Murphy reduces your risk. From proactive Return to Work strategies and programs to international claims, we've seen it all and thought of everything to keep your business and employees safe.
Insurance Services
We use a variety of services to transfer your risk. We take a customized approach to navigate market conditions for your best property casualty insurance including alternate workers' compensation programs, third-party certificate reviews, and policy checking and investigative cost benefit.
Let's Get to Work
Your potential and satisfaction are very important to us. Along with the delivery of a customized Impact Plan unique to your business, we discuss the best form and frequency of communication regarding areas that need extra focus, so your manufacturing business can keep running smoothly.
We're proud that our manufacturing base makes up a quarter of our business. To learn more about how we can help your business operate at its highest level, contact us for a personal consultation.
Not quite ready to make the jump? Learn more about property casualty insurance and Holmes Murphy on our What's Up Holmes blog!