Captive Insurance
Captive insurance companies bring together like-minded businesses to form their own insurance companies. There are many pain points that leave employers looking for an alternative to traditional insurance:
Frustration with traditional insurance market pricing
Lack of stability over a large business expense
Little transparency from leading insurance carriers
Lack of control
That's where insurance captives step in!
What Is Captive Insurance?
Captive insurance allows you to form your own insurance company, turning a large expense into a profit center for your business.
Captive insurance provides employers:
With the control over individual premiums and returns
The stability of a long-term business strategy with insulation from market volatility
An opportunity to allow for underwriting profit and enhance company culture
Incentivized improvement in risk and safety and/or health and wellness
These are just some of the many reasons employers choose to move forward with an insurance captive. Instead of "renting" insurance from large carriers in the traditional insurance market, you get to own your insurance and the success it brings.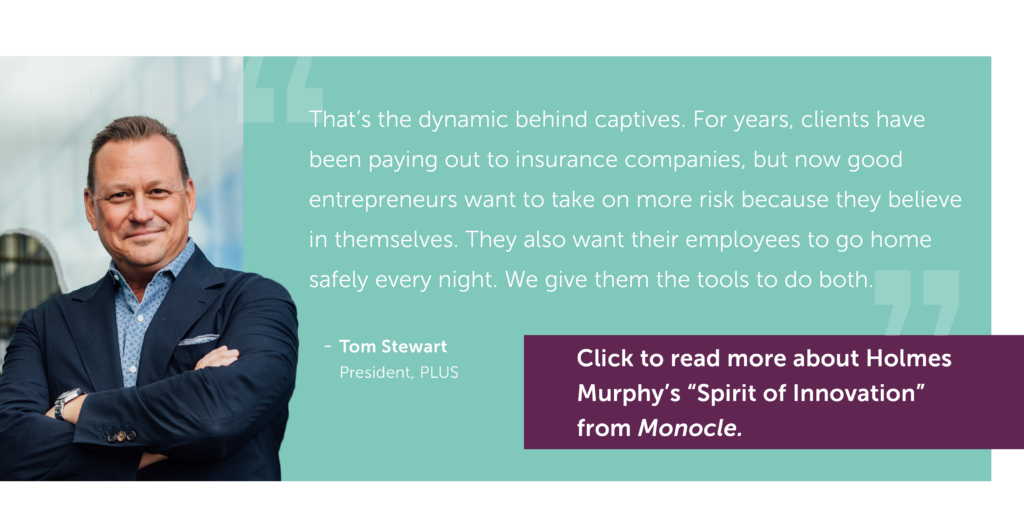 Property Casualty and Employee Benefits Group Captives
Group captives are a popular captive insurance solution which brings together a group of organizations or individuals to form an insurance captive.
In property casualty group captives, you join a member-owned group captive for your property casualty coverages. You'll be able to own your risk and partner with a community of likeminded business leaders like you. This grows your professional network, provides a peer group environment to promote best practices, and enhances your company culture and safety results.
Employee benefits group captives provide an alternate option for health insurance. This innovative group captive solution rewards businesses for making health and wellness a priority, as well as benefiting from group captive ownership. The biggest difference between traditional health insurance and an employee benefits group captive, you don't have to pay for unnecessary insurance or coverages your employees don't use.
Other Types of Captive Insurance
But captive insurance is not a one size fits all solution. There are many types of insurance captive solutions. Check them out!
A single-parent captive is owned and controlled by a single-parent organization, company, partnership, trust, or individual. This structure is typically used by hospitals, other not-for-profit organizations, or large and mid-sized privately owned for-profit organizations.
An association captive is similar to a group captive, except it is sponsored or owned by an association itself versus individual members.
An agency captive is owned by an insurance company and provides a creative alternative risk structure to clients.
A segregated portfolio company is a legal structure in the Cayman Islands and many domiciles and offers similar segregated cell, incorporated cell, etc. legislation.
A portfolio insurance company is similar to a segregated portfolio company. The incorporation of a portfolio insurance company is what sets this structure apart from an unincorporated cell in a segregated portfolio company.
Grow.Fully. with Leading Captive Industry Partners
If your business has an entrepreneurial drive to control risk and do business boldly, our captive insurance programs, Innovative Captive Strategies (ICS) and Global Captive Management (GCM), are here for you!
Since 1999, ICS has been challenging the way insurance has always been done. With transparent partnerships based on honesty and open communication, they invest in your relationships.
GCM has been bringing their expertise, experience, and passion to the captive insurance industry since 1982, helping clients own their outcomes.
Our captive experts are ready to answer your questions. Let's get in touch!
Want to learn more about captive insurance and Holmes Murphy? Check out our blog!