Holmes Murphy Foundation
Chairman & CEO Message
As I reflect on 2022, it's hard not to smile. Not only did we celebrate our 90th anniversary, but we did so with gusto. In fact, throughout the year, we took several bold moves all with one goal in common — to create lasting impressions for those around us and the generations to follow.
First, we hired a Chief Diversity Officer. Holmes Murphy deeply believes in not only enhancing the work we do to create an environment where everyone feels valued, but also helping us sustain an environment where we can all reach our unique potential. I am very proud of our accomplishments in the areas of diversity, equity, and inclusion (DE&I), and can't wait to see where the year ahead takes us.
Holmes Murphy also took intentional steps forward in the Environmental, Social, and Governance (ESG) space. Our organization's purpose of caring for the unique potential of our employees, clients, and communities is the foundation of our ESG strategy, and we've taken a balanced, intentional, and authentic approach to ESG to reflect who we are and who we aspire to be.
Finally, Holmes Murphy has always encouraged each one of our employees to Give.Fully.™ with their time, talents, and treasures dating back to our founders, Max Holmes and Raymond Murphy, Jr., and 2022 was certainly no exception. As part of our 90th anniversary celebration, we activated all of our employees to not only amplify our Give.Fully. efforts in our communities, but also to take full advantage of all the impactful tools our Holmes Murphy Foundation offers.
With social responsibility at the core of our Holmes Murphy culture, we recognize that with continued growth and success throughout our 90-year history, we need to remain vigilant in caring for and supporting not only our employees and clients, but also our communities and the industry.
We believe we all play a role in living out our unique potential and purpose and caring for those around us, and we're honored to help light the way for change and offer a brighter future for all!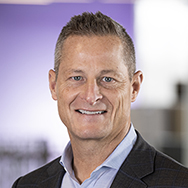 Dan Keough, Holmes Murphy Chairman & CEO
What Are the Foundation's Areas of Giving?
Safety, Health and Wellbeing
We believe everyone deserves to feel safe, be healthy, and thrive, and yet, so many don't have access to the resources or interventions needed. We support at-risk, health, and wellbeing human services initiatives that address these growing needs.
Youth Opportunities
We believe proper youth development opportunities are at the forefront of our next generation living their best and most productive life. We support initiatives tied to youth development and enrichment in our communities. Our youth will drive our future.
Arts & Culture
We believe arts and culture are paramount in creating healthy and vibrant communities in which we live, work, and play. We support arts and culture initiatives that allow access to learning opportunities for our employees and their families.
Diversity, Equity, and Inclusion
 We focus on embracing differences with intentionality and with a goal to make a difference at work, home, and in our communities. We support services designed with authenticity and that will help us sustain a culture where every person is supported to reach their fullest potential.
What Are the Foundation's Giving Vehicles?
Community Footprints Program
Our Community Footprints Program allows us to create an even greater impact on the communities we call home by selecting organizations specifically through Holmes Murphy employee feedback. We're supportive of 501C-3 or non-profit organizations directly impacting the four giving pillars.
Direct Giving
We believe in supporting causes most closely aligned with our own mission-driven aspirations and those tied to our customers, business partners and local non-profit or charitable organizations. Submit a Direct Giving request.
Volunteering in Our Communities
An impression is left with every encounter, and Holmes Murphy is committed to creating a culture of volunteerism and giving back to our local communities. We encourage employees to be actively involved in their communities, both through their personal areas of passion and through opportunities offered by Holmes Murphy. The intention of this program is to create community engagement that is meaningful and purposeful for those in need.
Employee Matching Gift Program
We believe a part of our obligation as an Employer of Choice is to not only encourage community engagement, volunteerism, and advocacy, but to help strengthen our employees' efforts in the tune of a matching gift.
To learn more about each of them, take a look at our 2022-2023 Holmes Murphy Foundation Community Impact Report.
*Please Note: The Holmes Murphy Foundation does not support requests related to athletic sponsorships, politically-driven campaigns, or faith-based campaigns.
Have Any Questions?
Email us at ShareAbundantly@holmesmurphy.com.