Into the Breach: Responding to a Cybersecurity Incident from Start to Finish
Holmes Murphy; 2727 Grand Prairie Pkwy; Waukee, IA 50263 OR Via Live Video Webcast from Your Computer
Event Schedule
November 14
8 a.m. - 12 p.m. CT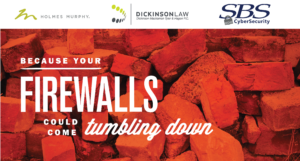 It's the worst case scenario: you're on vacation and are notified that a cybersecurity breach has just happened at your company. Your computer systems are locked down. Your employees are not getting paid. There is a message that your company's data is being held hostage unless you pay $10,000 in bitcoin.
You ask yourself: How did this happen? What do we do now? How do we fix this? How do I communicate to our employees? How do I communicate to our customers? What else did they hit?
Learning from a real data breach after it happens is painful and can leave your company with more questions than answers.
Join a panel of experts from Dickinson Law, Holmes Murphy, and SBS Cybersecurity who will share tips to properly prepare and reduce your risk of a cyber breach and equip your company with the right tools and resources to minimize damage after a breach takes place. The panelists will walk through a real data breach example, including:
How fraudsters gain access to your systems
Incident Triage
Internal and External Communications
Managing Liability and Claims
Identifying how people, processes, and technology can all lead to  breaches
How to apply the lessons learned after a breach
Unfortunately, no company in any industry – large or small – is immune to the threat of a cybersecurity breach.
HOW CAN YOU ATTEND?
Those interested in the event can participate via the options below:
In-Person Seminar: Save your seat today by completing the registration form. The In-Person Seminar space is limited and is first come first serve. The seminar is complimentary. A light breakfast and coffee will be provided.
"Live" Video Webcast: Those who are unable to attend the In-Person Seminar can attend via Live Video Webcast. Complete the form to register to receive the access link.
OnDemand Recording: The webcast will be recorded and available OnDemand.  To access the recording, complete registration form and the recording link will be sent to you after the live seminar takes place.
Questions? Contact tmccombs@holmesmurphy.com.