ESG at Holmes Murphy
Holmes Murphy's purpose of caring for the unique potential of our employees, clients, and communities is the foundation of our Environmental, Social, and Governance (ESG) journey. For us, we like to look at ESG as a way to always do what's right, make an impact, care for our planet and help others, and advance our purpose, all the while helping to expand the causes that are most important to our clients, communities, and the industry. Simply put, we embrace our ESG journey as we activate our purpose and we strive for our approach to be balanced, intentional, and authentic to who we are and who we aspire to be.
Our ESG Journey
We understand the importance of you working with partners in your value chain who have shared values alignment enabling all stakeholders to accelerate their ESG commitments, which is why we believe it's so important to not only measure and show you our approach, but also collaborate with you as mutual partners and stakeholders.
Take a look at some of the steps we've taken on our ESG journey.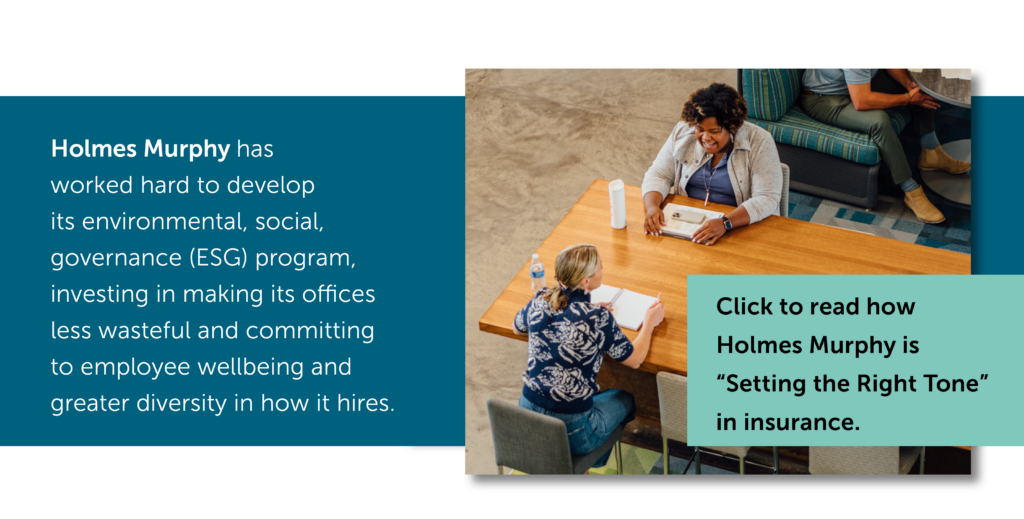 Environmental
We believe it's important for our offices to have a positive impact on our communities, including the environment around us. Regardless of whether we are a tenant or a building owner in our different geographic locations, we aspire to create a culture of environmental stewardship through:
Monitoring and recording water usage
Implementing water conservation methods
Streamlining recycling
Using LED lighting & motion sensors
Encouraging employees to use the available water bottle filling stations
Social
Caring is the core of who we are and living out our purpose statement is essential in the social aspect of our ESG journey. As part of this, we:
Governance
More legislation is being introduced surrounding ESG every day, which is why we believe we should stay one-step ahead. We've embraced this this by:
Providing employee ownership opportunities
Conducting materiality assessments
Creating and using a cross-functional ESG internal Committee
Designating an ESG Advisor
Enhancing cybersecurity
We're also aligning with the Global Reporting Initiative (GRI) and United Nations Sustainable Development Goals (UN SDGs) guidance as we work through our own B Impact Assessment. We have selected to specifically follow the B Impact Assessment standard as a way to evaluate and enhance new initiatives in our ESG journey. We also believe by aligning with the GRI and UN SDG, we're better able to align with our clients, carriers, and partners, as the GRI and UN SDG are globally accepted framework and will likely be used by many companies as they work through their ESG journey. We feel this positions Holmes Murphy to be the best partner for those we work with.
Interested in Learning More?
We don't keep this knowledge to ourselves either. We provide ESG consulting services to our clients too! Check it out.
**Holmes Murphy follows all SDG logo use rules as defined in the SDG guidelines.