Employee Benefits
The U.S. health insurance system is the most complicated consumer industry in the world, and it's the most expensive. Employers and employees shouldn't have to navigate it alone.
With the costs of employee benefits and healthcare continuing to rise and multiple factors contributing, it often feels like you are being hit from all sides. Costs rise due to legislation, employees deferring care, and worsening population health, and that's only just the beginning! How do you keep employee benefits costs down while caring for your employees?
Caring for Your Employees and Business
One core component of reducing cost and saving time is by providing your employees the right benefits. You don't want to waste money on benefits that no one is using. With more than half of employees being dissatisfied with their employee benefits, it's time to evaluate what you're providing your employees.
But, how do you meet your employees' needs? Your employees are multigenerational and complex human beings. Through extensive research, Holmes Murphy can help identify your employees' needs; so, you can spend your money and time on offerings that your employees will use and benefit from.
Providing the right employee benefit offerings saves you money through disease prevention and early detection. Disease is the main cost driver of healthcare spending, and that's why early detection is essential. By helping at-risk employees and developing condition-specific plans, employers save money and lives.
Meeting your employees' needs through your benefits and  communication strategy often leads to employee retention and talent acquisition. With so many employees dissatisfied, your benefits have the opportunity to shine, especially in tight labor markets.
Don't worry! You don't have to tackle your employee benefits alone. This is where a trusted insurance broker, like Holmes Murphy, can help.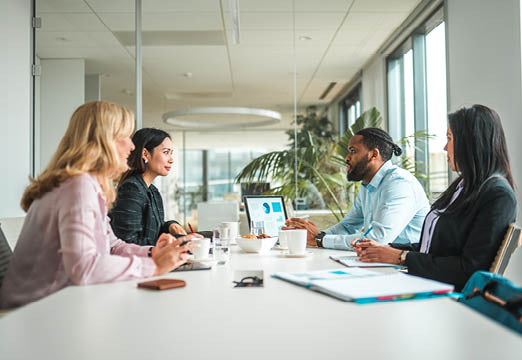 We Strive to Understand.Fully.
We lean in to understanding you — your employee population and business. Our proactive approach offers a complete suite of employee benefits consulting services and plans that are unique and custom-built for your needs, including:
Plan design
Compliance
The latest employee benefit delivery technology
Enrollment support and communication
Budget analysis
Regular reporting and monitoring
Our experienced employee benefit professionals engineer high-quality, low-cost solutions specific to your challenges, reducing costs and helping your employees get healthier.
Using a ground-breaking, team-building exercise that is engineered to identify your "healthcare why," Holmes Murphy conducts various opportunity assessments with your leadership team. Through our Core Values Exercise, we capture the beliefs of your key leadership team and criteria of your organization around:
Financial responsibility
Provider quality
Personal behaviors
Healthcare accountability
Establishing and documenting these values can help to efficiently eliminate employee benefit strategies that don't fit your organization and focus energy on those that do. We collaborate with you and among our team to create, refine, and deploy a multi-year, employee benefits strategic approach in the form of a customized impact plan.
While formulating short-term strategies may be necessary to address immediate issues, we want to work with you to develop long-range goals and programs. A long-term plan is needed to moderate the increases in healthcare costs, take advantage of leading-edge healthcare strategies, and improve communication and service to your employees.
Make the Most of Your Employee Benefits with the Right Partner
From first contact, you'll see our dedication to meeting your budget, timeline, and guidelines to help you reach your potential. Working with us, you'll see why we boast an amazing 90% customer satisfaction rating in every facet of our employee benefits offerings. We work as an extension of your employee benefits and HR team. Whether through general administrative support, vendor management, financial analysis, or strategic long-term planning, we're here to assist your team in navigating the employee benefits landscape; so, you get the most value out of your benefit programs.
With over 90 years of business, we have longstanding relationships within the insurance industry and unmatched expertise, including having representatives on Advisory Councils for many of the national insurance carriers. Our involvement provides valuable insight to product and strategic directions of insurers and industry innovations, as well as access to those shaping our national policy on healthcare. We bring all of this knowledge to your employee benefits strategy.
When you have confidence in your coverage, it lets you focus on your purpose. At Holmes Murphy, it's our purpose to help you find the peace of mind that lets you and your people achieve their full potential. To learn more about how we can help, contact us for a personal consultation.
Also, don't forget to check out what our thought leaders have to say on our Holmes Murphy blog! We post new blogs every week.