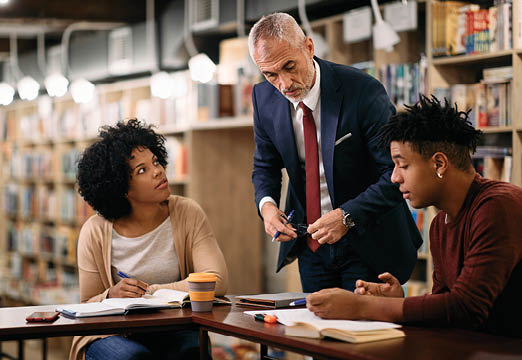 Fraternal
Holmes Murphy Fraternal Practice to Once Again Award DE&I Scholarships!
It is March, one of my favorite months of the year. Spring is just around the corner, it's Women's History Month where we celebrate women telling their stories, and for our Holmes Murphy Fraternal Practice, it is also scholarship time. That's right — we're excited to announce we'll once again be distributing $10,000 in scholarships!
Our scholarship program was started in 2022 to create greater awareness of the opportunities in the insurance industry and within Holmes Murphy. It also started because one client asked the Holmes Murphy Fraternal team about our diversity, equity, and inclusion (DE&I) initiatives. It was a hard and reflective conversation, and hard conversations can lead to better outcomes!
Offering students of color scholarships is not only one small thing we can do on behalf of students of color, but it can also jumpstart a career into Holmes Murphy. It can lead to an internship with us, placement in our Brainery program, or a career opportunity. And I believe this diversity can and will make our company better.
Recently, I was at the University of North Carolina, Charlotte, and I got to meet one of the 2022 scholarship winners. Keenan, shown below, is an amazing man. He is the kind of person we need in Holmes Murphy to make our company better.
I like to think about five years from now, and we have 50 winners, or 10 years and we have 100 winners. The scholarship recipients might be my next colleague or my next supervisor, and I am looking forward to learning from them!
Are You Ready to Apply for the 2023 Scholarship?
So, now that you know the background. Are you interested in applying? If so, here's what you need to know. To be eligible for the scholarship, applicants must meet the following criteria:
Their national/international organization is a Holmes Murphy client.
They are a student of color.
They are a member in good standing within their organization, and the chapter must be in good standing with the national/international organization at the time of application.
They are currently enrolled as an undergraduate full-time student.
They are pursuing an undergraduate degree in Economics, Finance, Computer Science, Marketing, Communications, Insurance and Risk Management or interested in pursuing a career in the insurance industry.
They are willing to participate in a 60-minute scholarship announcement webinar on June 5 (time TBD).
If you're a fit, we encourage you to apply.
Also, don't hesitate to reach out to our Holmes Murphy Fraternal team if you have any questions!
Published on: 03.06.23