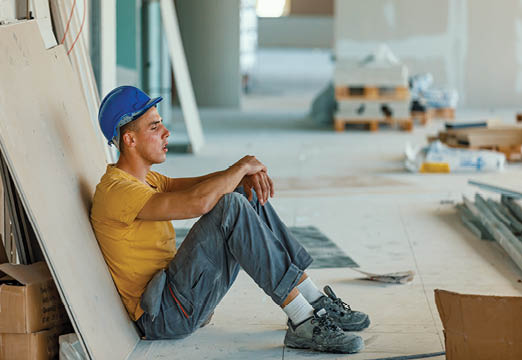 Corporate Culture
Sharpening Mindset and Engagement to Help Construction Worker Wellbeing
Richard Branson, founder of Virgin, once said, "take care of your employees, and they'll take care of your business. It's as simple as that."
Panning the huddling groups at a recent fundraising gala, I grinned as everyone was absorbing beverages and chowing down on endless fried finger foods. This event was supporting a popular national health organization. The irony made me ponder the importance of leaders truly walking the talk to further the growth of the construction industry, associations, and their own companies while supporting the health and wellbeing of their employees. My observation challenged my own commitment to promoting wellbeing at home, in the office, with the community, and my career.
Construction Industry Reacts to Wellbeing Issues
Headlines continually show the alarming escalation of the issues grappling the construction industry, such as chronic pain, dependence on alcohol and substance misuse, and opioid overdoses and suicides. The industry's continuing workforce shortage has increased pressure and stress on workers who are fighting fatigue, rising expenses, and decreased buying power.  Today's workforce is less engaged and increasingly distracted.
What I respect most about construction is the industry is based on strong work ethic. As the saying goes, when the going gets tough, the tough get going. Despite the challenges the industry is facing in workforce development, engagement, and mental health and wellbeing, the industry will adapt and fight through these growing pains. I've already seen signs of an evolving, collective mindset that is viewing these challenges as an "infinite game."
In a book by this title, Simon Sinek describes an infinite game as one where the rules are changeable, there is no finish line, and the objective is not to win. The greater good is served by mutually pursuing "just causes." When I see groups forming in various geographic areas across the U.S. modeled after the Construction Industry Alliance for Suicide Prevention, I see signs of the infinite game.
The changing trajectory is apparent as more companies and leaders at all levels responsively evolve with respect to mental health in the workplace. Worker wellbeing looks at how to meet each employee where they're at and actively participate towards growing their mindset to live their best life. Workers who find satisfaction in their work report higher degrees of fulfillment and meaning in their lives. This leads to higher engagement and a sense of purpose. This leads to happier and more productive workers who are focused on safety and quality, too.
Tools to Help Manage Worker Wellbeing
The tools to manage the everyday pressures of life are difficult to maintain. Think of your employees as a never-ending project. The project is their career, the warranty period is their life, and each individual needs regenerative work frequently. This is akin to preventive maintenance performed at regular service intervals to keep your assets in top operating condition.
So, what can you do?
Work on enhancing the processes you have to keep employees safe and happier. You can start simply by proactively focusing on mindset, attitude, and actions, such as the following:
Begin a deeper engagement with individuals to connect a personal level
Grow comradery by learning what fuels your workers' purpose and fulfillment
Review the tools available within the firm and our platform to aid an employee's starting point and potential
Make an action plan to not lose focus of that person's process towards overall health and wellbeing
Take it upon yourself to walk the talk in helping employees refocus their purpose for the organization and their everyday lives by enthusiastically supporting your employees, your firm, and the construction industry. By continually focusing on the emotional and physical health and overall wellbeing of your workers, the industry can change for the better.
Take on the Power and Responsibility
With great power, comes great responsibility. Growing employees' self-respect and pride within the organization will boost bottom-line results by truly focusing on the mission to reducing workforce risk by having a well-adjusted, healthier, and happier team that finds strength from the support and tools within your organization. These more engaged workers can help promote the construction industry as a great career path and lead more workers to join the industry, too!
Each person brings a skillset worth optimizing. Focusing on them will be rewarding for all! Not sure where to start? We have worker risk and wellbeing experts on hand to help! Please don't hesitate to reach out!
Published on: 09.08.22