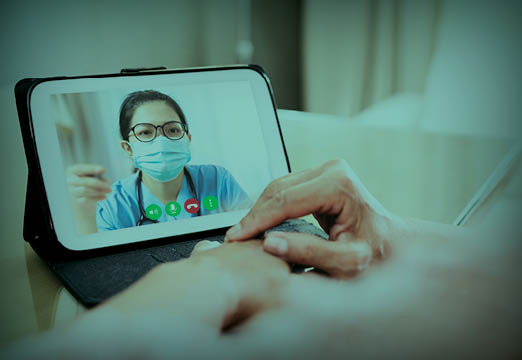 Employee Benefits
Virtual Care and Wellbeing: Forecasting 2021
COVID-19 has changed a LOT of things within the past year, and virtual care was part of that change.
In fact, virtual care adoption dramatically increased when the pandemic suddenly limited healthcare access and taxed the healthcare system. Telehealth was an option patients and healthcare providers could quickly turn to as a valuable alternative to in-person care. Throwing some statistics behind that — there was a 46 percent rise in people using telehealth services compared to 11 percent in 2019. Wow! Perhaps you even found yourself as part of this data increase.
With the adoption and growing recognition that virtual care goes well beyond a typical urgent care visit, the goal is to now position virtual care as the first place consumers go to get the care they need and manage their health. But will this actually take hold or is this just a pandemic-related change that will switch back eventually?
Let's take a look.
Employer Thoughts on Virtual Care
Even before the pandemic hit, this information was released by the National Business Group on Health and per a survey they conducted…
"With U.S. health care benefit costs projected to climb another 5% next year, large employers are doubling down on efforts to stem the increases, according to an annual survey released today by the National Business Group on Health. Employers identified implementing more virtual care solutions (51%) and a more focused strategy on high cost claims (39%) as their top initiatives for 2020. The survey also found that managing prescription drug benefit costs remains a high priority for employers in 2020."
As you read further, the number of employers who believed virtual care would play a significant role in how healthcare is delivered in the future continues to grow. It was 64 percent in 2020 vs 52 percent for 2019.
Specifically looking at 2021 and beyond:
The majority of employer respondents to the survey (51 percent) plan to offer more virtual care programs.
Nearly all employers will offer telehealth services for minor, acute services, while 82 percent will offer virtual mental health services, and that could grow to 95 percent by 2022.
Virtual care for musculoskeletal management shows the greatest potential for growth. While 23 percent of employers will offer musculoskeletal management virtual services this year, another 38 percent are considering it by 2022.
"Virtual care solutions bring health care to the consumer rather than the consumer to health care. They continue to gain momentum as employers seek different ways to deliver cost effective, quality health care while improving access and the consumer experience," said Brian Marcotte, President and CEO of the National Business Group on Health.
Virtual Care Options for Your Organization
It appears virtual care and the capabilities that come with it, along with its ease of use for patients, are pretty attractive to many organizations.
At Holmes Murphy, we've actually been working with many clients to develop a strategy around virtual wellbeing. In fact, we created a wellness toolkit specifically designed to help employers support mental health in the workplace.
If you'd like to learn more about the toolkit or if you just want to ask questions/discuss virtual care programs you can offer, please don't hesitate to reach out to us. We're happy to help you in any way we can!
Published on: 02.11.21