Employee Benefits
Are Traditional PPO Insurance Plans Really Beneficial?
In your current environment with your carrier, you are accessing a broad-panel Preferred Provider Organization (PPO) network that purports to provide access to a list of "preferred" providers at a meaningful discount. The idea is that having employees stay in this health insurance network should:
maximize savings
protect employees from low-quality care
minimize any employee disruption or financial risk
In reality, PPO health insurance networks are failing to fulfill these basic promises to employers.
The Unfulfilled Promises of PPO Health Insurance
Is It about the Quality or Quantity of Providers?
We know that far fewer than 90-95 percent of today's physicians and hospitals (which is what the average PPO insurance network includes) deliver high-quality care. Because of the way PPOs are contracted, carriers are generally prohibited from steering patients to high-quality providers or providing any meaningful quality data to you or your employees.
As a result, back surgeries are performed with poor results, infections occur that could have been avoided, and complex surgeries are performed by physicians and in hospitals that are simply not qualified to perform the procedure. These are all, unfortunately, prevalent problems with the U.S. healthcare system.
A Discount Off What?
Health insurance networks report "discounts" above 50 percent for inpatient and outpatient services in their PPO networks. However, the discount is calculated from an arbitrary and widely varying billed amount (like a "sticker price").
For example: In Houston, these prices can range from 300 percent to 1000 percent of Medicare for the same services at different facilities. A 60 percent discount in this environment tells you very little about whether what you paid is fair and competitive.
The lack of price transparency makes it virtually impossible for your employees to determine the full price for services in advance. In essence, what this PPO "discount" scheme ensures is that all employers are paying, on average, 2-3x the Medicare rate.
Patients Hate Surprises!
Finally, these PPOs — as broad as they are — still have critical healthcare providers who are out of the health insurance network. In many cases, your employees have no idea they are being treated by a provider who is not in the network (ER physicians, anesthesiologists, radiologists, etc.).
In these "surprise" situations, the employee is then exposed to significant financial risk for the balance of the bill, potentially up to the inflated sticker price for those providers. In employer PPO plans, 18 percent of inpatient admissions include at least one claim from an out-of-network provider, and 25 percent of admissions at in-network facilities with an ER claim include a claim from a non-network provider.
Insurance carriers might step in and negotiate on your behalf, but even in those circumstances, the carrier keeps 30-40 percent of the "savings" they negotiate, and the member is still left with a hefty price tag, or even a credit impairment. It's estimated 43 million Americans have a credit impairment related to a healthcare claim, and two-thirds of those report having health insurance.
The protection for your employees simply isn't what was promised.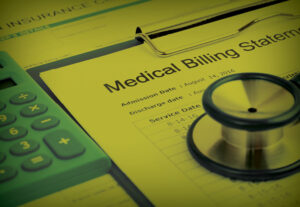 The Possible Solution: A High-Performing Network
An innovative solution you could pursue is a high-performance network built on quality and efficiency, "wrapped" with a reference-based pricing (RBP) model.
An RBP approach to health service pricing links the reimbursement to an index, and Medicare is the most common pricing benchmark. Your employees in or around major metropolitan areas would access a smaller subset of the hospitals through an RBP reimbursement that delivers a deeper discount than is currently provided by your PPO health insurance plan.
For example: In Texas, Imagine Health has direct contracts with Houston Methodist and HCA in Houston. Because Imagine is willing to exclude St. Luke's and Memorial Hermann from being treated as "in network," Methodist and HCA are willing to provide a 15-20 percent price reduction for inpatient and outpatient services. Employees in or near these metro areas would receive a richer benefit (i.e., lower medical plan cost sharing) when they access these facilities. In addition to a better benefit, these employees will receive greater quality, a dedicated member advocate, protection from being balance-billed by out-of-network providers, and a lower price for inpatient and outpatient services.
While this "high-performance network" approach creates a financial incentive for members to use these "contracted facilities," the proposed solution would also provide access to any other facility in the country but at a slightly lower benefit level (i.e., lower coinsurance).
For many employees, choice is important. In this model, all facility claims for non-contracted providers would be reimbursed using the RBP pricing solution outlined in the paragraphs below.
How Does a High-Performing Network Work for Employees Outside of Metropolitans?
For employees and dependents residing outside of major metropolitan service areas (or for all facility charges in metropolitan areas that are not "in network"), the plan would allow access to ANY inpatient or outpatient provider or hospital in the area. The key difference is the way the plan would reimburse these providers.
Rather than using a "discount" that results in a payment 2-3x Medicare like with a PPO network, the plan document would direct the RBP partner to pay those claims at the greater of 120 percent of Medicare or the provider's cost, plus 12 percent.
In an average year (or over time for smaller employers), about 50 percent of your total spend is facility-based.
The combination of a high-performance network in metropolitan areas and RBP everywhere else will result in a 15-20 percent reduction in costs immediately. The model we've described above pays physicians at a competitive, contracted rate and provides broad access to care with an emphasis on good primary care, while focusing most of the attention on the facility spend, where the commercial payor (the employer) is overpaying by 2-3x when compared to Medicare reimbursement rates.
High-Performing Networks and Balance Billing
A potential challenge with an RBP approach is that the employee or dependent could be asked by the provider to pay the difference between their original bill and the reimbursement they received. This is referred to as "balance billing" and is included in proposals currently circulating through Congress to address "surprise bills" in health insurance.
The momentum in Congress is leaning toward surprise billing legislation that would create an arbitration system for non-network claims and other surprise bills. Action in Washington literally takes an act of Congress, but that does not mean that employers and covered patients don't have a path forward.
One of the keys to protecting your employees (and the plan) is to make sure your RBP partner provides fiduciary responsibility for the payment of the claim, as well as unlimited defense of the claim for as long as it exists.
A total of 85-90 percent of facility-based claims in this model are accepted with no further follow-up from the facility. That leaves approximately 10-15 percent of your facility claims (or 1-2 percent of overall claims) that could receive a request to pay the difference.
Published on: 06.29.20