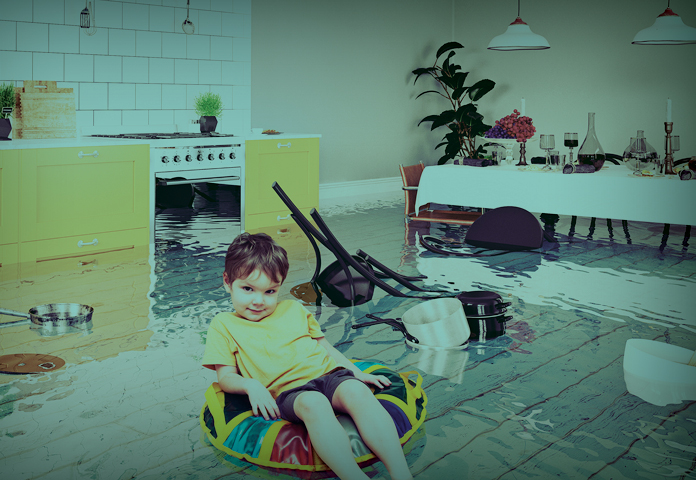 Property Casualty
How to Prevent the Kind of Indoor Pool No One Wants Inside Their Home
Let's kick this blog off with a quiz. Out of the following three options, which do you believe accounts for the most homeowner insurance claims each year?
Fire
Water damage
Theft
If you answered 'water damage,' you're correct (the blog title and image may have given it away!!). Water damage accounts for more homeowner insurance claims than fire and theft. That's crazy to even think about, but it's a reality.
How can you avoid water damage?
Picture this. Your family is out of town for the weekend, and a pipe burst occurs on Friday night. Your family comes home on Sunday at 6 p.m. to discover the issue. By now, the burst pipe has caused significant damage and water has leaked from the upstairs bathroom to the kitchen. Not only does this cause financial problems, but it causes a big headache for your family. This headache can include months of construction to fix your home, and you may even have to relocate while your home is being renovated. Insert loud groan and a whole lot of turmoil.
So, how could you have avoided this homeowner insurance claim?
The answer is simple…by installing a water shut off device, which is a small device that connects to the master plumbing valve of your home. It monitors the water flow and automatically shuts off the water once it detects an influx in water usage. Most devices include an app that will notify you if there are issues, even when you're not home. Devices can also typically be tied into a home's security system. And, in addition to saving yourself time, money, and headaches from water damage, there's an added bonus to installing a water shut off device…you can see a significant credit on your homeowners insurance premium!
Below are a few common brands of devices that can be installed by a plumber:
Flo Logic
Drop Connect
Phyn
Flo by Moen
Stream Labs
Before I end this blog, there are a couple of other ways to avoid water damage claims in your home I don't want to forget to tell you about.
If you're heading out on vacation or know you'll be gone for an extended period of time, turn off the water main before leaving.
It's always a great idea to periodically inspect your appliances.
And, of course, if you have any questions about water damage and homeowners insurance, please don't hesitate to reach out. We're here to provide you with peace of mind!
Published on: 01.09.20