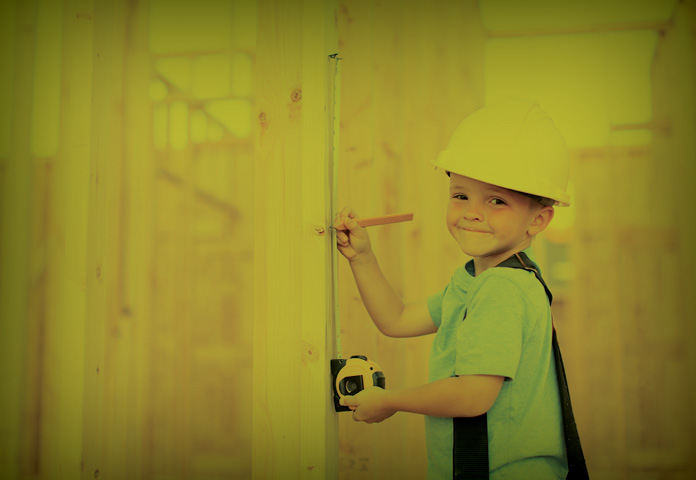 Fraternal
What are YOU doing this summer?
Friendship. Leadership. Learning. Service. While they may use different words to describe their missions, fraternities and sororities provide these experiences to their members. And while you may envision students spending their summer vacations on more frivolous pursuits, many organizations fully incorporate these concepts into programming opportunities. From service learning experiences here and abroad, to bike rides across the country, we wanted to take a moment to show you just a few of the many efforts the fraternal community is doing to live out its missions.
Service Learning and Immersion
For members of Delta Upsilon (DU), their Global Service Initiative (GSI) — part philanthropy, part service — builds global communities and better men.
Since 2011, DU and GSI have taken students to Jamaica for a service immersion trip where they're engaged in direct, hands-on service. GSI participants take part in the culture, interact with locals, provide manual labor for various construction projects, and participate in daily discussion facilitated by trained DU staff. These discussions center on global competencies and connecting the GSI experience to personal and DU values.
To help fund the GSI experience, each DU chapter is asked to raise money for the program. Philanthropy events such as chili dinners, car shows, bowl-a-thons, haunted houses, and more raise money for various GSI expenses. These expenses include building materials, cement, lumber and tools, as well as pay for local laborers.
Chapters collectively raise and donate approximately $100,000 to GSI each year.
Delta Gamma also takes part in service learning initiatives, to include several so far in 2019. It's all part of their program called "Delta Gamma Hope Serving."
This is a service learning experience that offers both collegiate and alumnae Delta Gammas the opportunity to develop as leaders on a local, regional, and (inter)national level. It's a trip that encourages learning and critical thinking through hands-on service, community involvement, and civic/social justice education.
Three trips were scheduled for 2019:
OWL (Oklahomans Without Limits) Camp in Edmond, OK
S. Association of Blind Athletes (USABA) in Fort Wayne, IN
Canadian National Institute for the Blind (CNIB) in Toronto, ON
One member from Gamma-UC Berkeley, Amanda Boyd, said, "Prior to this experience, I viewed fundraising and donations as a pivotal piece to service. Although important, volunteering at the institute and immersing ourselves in the lives of the visually impaired students and staff while painting their school and wrapping their pillars proved that volunteering time is priceless."
Swim Clinics
The partnership between USA Swimming and Sigma Gamma Rho Sorority, Inc. is a unique and committed one, but also historic. The Swim 1922 initiative is the first partnership of its kind with the intent to increase swim participation and decrease drowning rates in the African American community.
"Sigma Gamma Rho being primarily a service organization, we're really doing all we can to make sure we're positively impacting our community," said Deborah Catchings-Smith, International President of Sigma Gamma Rho Inc. "Even if you are not attempting to achieve a goal as an Olympic swimmer or competing, the foundational awareness and knowledge we are helping provide can be used to save lives."
Camps
Enriching the lives of children with serious medical conditions is a mission that Delta Zeta Sorority is committed to achieving. The Painted Turtle Camp supports children's medical needs, inspires them to reach beyond their illnesses, and provides care, education, and respite for their families. There is no billing department. All campers and families attend free of charge.
This program is Delta Zeta's National Service Project, coupled with the Sorority's national commitment to support the camp through donations. Through the volunteer experience at the camp, members are not only helping the children who The Painted Turtle serves, but they're also enriching their own lives.
Bike Rides
The Ability Experience is the philanthropic initiative of the Pi Kappa Phi fraternity founded in 1977. The program strives to instill a passion for lifelong service in members while helping to empower people living with disabilities. Through Journey of Hope, Gear Up Florida, or Build America the message of acceptance and awareness is spread across the country. Members cycle, drive vans, and build their way across various parts of the country doing friendship visits with local organizations.
Over 180 chapters raise a total of over $750,000 annually for The Ability Experience. The brothers of Pi Kappa Phi have collectively raised over $15 million in support of The Ability Experience's programs. These funds are distributed across the country to benefit people with disabilities and provide more service opportunities for the men of Pi Kappa Phi.
In addition to that, Holmes Murphy has a client whose sole mission is bike-riding philanthropy. Bike & Build engages young adults in service-oriented cycling trips to raise money and awareness for the affordable housing cause. Not only do participants ride bikes across the U.S., they also partake in "build days" providing manual labor to several affordable housing projects along the way. It's a once-in-a-lifetime experience that fosters a sustained connection to community. Bike & Build advocates for the need for affordable housing in thousands of communities across the country.
Since 2003, the following has happened:
11+ million miles biked — This is the same as pedaling round trip to the moon and back 24 times.
3,600+ riders engaged — We would need 233 stretch limos if we were all going to the same prom.
245k+ build hours volunteered — That's equivalent to 21,491 views of all three Lord of the Rings extended versions.
$6.6 million donated — With that money, you could buy, you know, 6.6 million McDonald's cheeseburgers.
Educational Trips
Sigma Phi Epsilon's Tragos Quest to Greece changes the way brothers view the world, their fraternity, and themselves. Guided by alumni mentors and university faculty, Tragos Quest to Greece Scholars study the influence that Greek philosophy, governance, and the arts has and continues to have in everyday life.
The program includes visits to ancient historical sites, such as Athens, Delphi, Nauplion, Salamis, an active archaeological dig at Olympus, and the battlefield at Marathon. Members explore the foundations of the fraternal world, experience their fraternity in a new light, and study the philosophies of Socrates and Aristotle while walking the same streets where those great minds taught.
Let me end this blog by saying that while we couldn't list all the many examples our clients and their fraternal brothers and sisters are doing with their summer breaks, we did at least want to give you a small glimpse into how they're working to make the world a better place. Fulfilling the mission of their respective organizations through service and learning helps them realize what a positive fraternal experience can bring.
Published on: 08.15.19